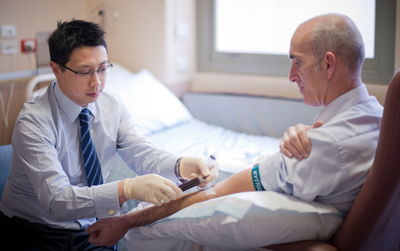 Your decision to contribute to medical research is a personal one, and many people find it a very rewarding experience. Millions of people around the world have benefited from advances in medical research.
Healthy volunteers are as essential to research as patient volunteers. Without volunteers, researchers would not be able to test out a theory or hypothesis about an important research question. A healthy volunteer is someone who has no significant medical conditions.
Every donation of blood and tissue will go towards research and may contribute to life-saving discoveries for future generations.
What are the risks?
Risks are involved in medical research, as in routine medical care and everyday life. To minimise the risks, each research project is reviewed by a Human Research Ethics Committee. Only then will the Volunteer Blood Donor Registry (VBDR) provide a researcher with a blood or tissue sample.
During collection of the blood sample, you may feel a slight pinch in your arm when the blood is drawn and you could develop a small bruise. There are minimal risks when collecting other tissues such as saliva, urine and nasal swabs.
Some research projects may involve genetic research, which is the study of genetic material (DNA). This type of research can raise a number of important issues that you may need to consider.
The coordinators will provide information about donating tissue samples for research and answer any questions you may have before you agree to register with the VBDR.
How is your privacy protected?
Your personal information is kept in a secure database that is private and confidential, and can only be accessed by the coordinators. Your sample and any health information about you that is provided to the researchers are coded so that they cannot identify you.