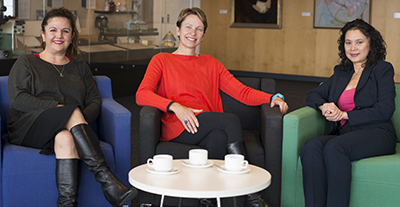 Dr Laskos (left) has worked with clinical researchers at the Walter and Eliza Hall Institute for more than six years to facilitate the translation of medical research into health outcomes and to develop supporting strategies and initiatives. She has extensive experience in the ethical considerations of human medical research. Dr Laskos has previously worked in the legal sector and has completed a PhD in infectious diseases.
Ph: +61 3 9345 2304

Ms Harris (centre) works with Dr Laskos at the Walter and Eliza Hall Institute to facilitate the progression of medical research. Prior to working at the institute, Ms Harris was a critical care nurse and educator for more than 10 years. This experience enables her to coordinate the clinical aspects of the institute's Clinical Translation Centre.
Ph: +61 3 9345 2480

Ms Le (right) supports translational research at the Walter and Eliza Hall Institute, Melbourne Health and the University of Melbourne. Prior to this she worked in the public health sector for over 18 years supporting clinical services such as BreastScreen at Southern Health.
Ph: +61 3 9345 2838

Volunteer Blood Donor Registry
Care of The Walter and Eliza Hall Institute
1G Royal Parade
Parkville VIC 3052
Email: .(JavaScript must be enabled to view this email address)
Your suggestions on how the Volunteer Blood Donor Registry can be improved are most welcome!